Free: The Final Stroke part 2 dropped another teaser trailer, and a Visual. The movie, titled: The Final Stroke – Kouhen will be available to watch in Japanese theaters on April 22, 2022.
Free! is a Japanese anime television series produced by Kyoto Animation. The series aired in Japan from July to September 2013 and was followed by a feature film, Free! Timeless Medley. The Free: The Final Stroke is being produced by Kyoto Animation, you can see the new visual for the movie below: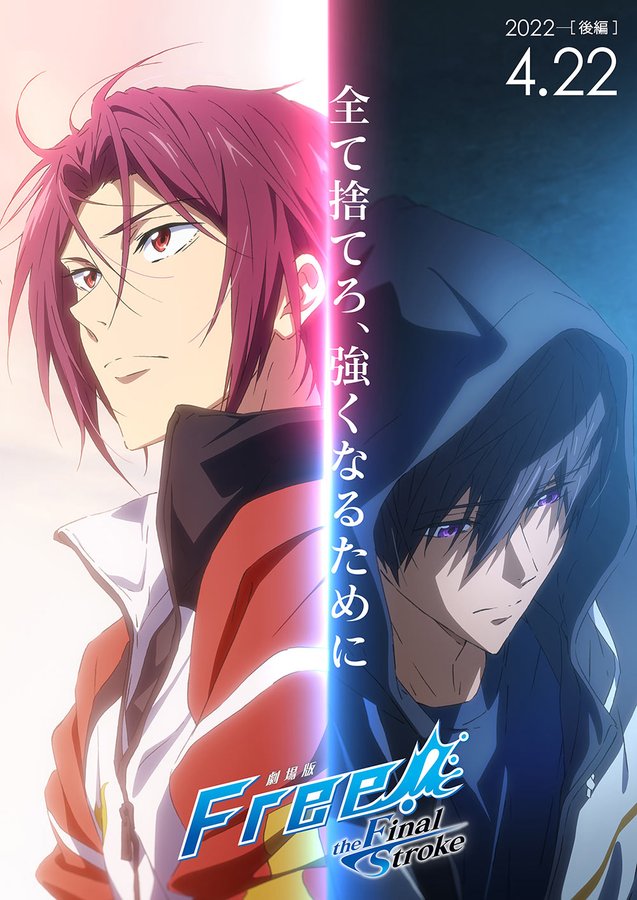 Free! Iwatobi Swim Club is a sports anime series produced by Kyoto Animation. It follows the story of five boys, Haruka, Makoto, Nagisa, Rei, and Rin, who are members of the Iwatobi High School swim club. The show is praised for its beautiful animation and character development.
The Free anime is based on a light novel written by Kouji Ouji and illustrated by Futoshi Nishiya. Futoshi Nishiya also designed the characters for the series and was the animation director, but he died in the Kyoto Animation arson attack in 2019.
Eisaku Kawanami is directing Free: The Final Stroke part 2, Kouhei Okamura is designing the characters, the sound director for Final Stroke is Tatsuya Katou. Kouhei Okamura and Miku Kadowaki are directing the movie's animation.
The first Free anime, Free- Iwatobi Swim Club, was released in 2013, with the Eternal Summer sequel following a year later. Kyoto Animation and Animation Do produced the first two seasons. In addition to that, there have been four movies and numerous DVD specials as well as OVA series; the most recent season is Free: Dive to the Future, which debuted in 2018.
Source: Official Free Anime Twitter