10 Great Horror Movies That Never Got Sequels
Horror movies have been a fascination for movie fans since the very beginning of movies. Audiences enjoy good fear, and the genre has created some of the best and most popular films of all time. The horror genre really has a reputation for building franchises out of everything. Great horror movies can sometimes create countless sequels until you get sick of watching them.
Of course, not every horror film managed to get a sequel. Some don't connect with the audience, but sometimes even those favorite horror movies fail to get to the next part. Although these films have a lot of fans, their stories seem to have stopped at one point. Here are a few horror movies that never got a sequel, and we think they deserved it.
10. The Crazies (2010)
Genre: Sci-fi, Horror
Director: Breck Eisner
Cast: Radha Mitchell, Timothy Olyphant, Danielle Panabaker
Summary: A mysterious poison has poisoned the water supplies of a small American town in the state of Iowa. Residents are infected with an unusual epidemic of insanity and die one by one. Is there any salvation for them, after all?
'The Crazies' is based on the eponymous horror of master George Romero from 1973.
Timothy Olyphant plays a sheriff, and Radha Mitchell, his wife, a doctor in a small town whose inhabitants start behaving strangely after a mysterious poison pollutes the water. Soon madness and death reign in the city, so the sheriff must prevent a mysterious epidemic, and the army that surrounds the city and declares quarantine intervenes in the action…
Some critics prefer the first, original version of George Romero, but this film is mostly rated as a 'fun copy of the genre' and a 'good horror.'
This is one of those movies we would like to see a sequel.
9. It Follows (2014)
Genre: Horror, mystery, thriller
Director: David Robert Mitchell
Cast: Maika Monroe, Keir Gilchrist, Olivia Luccardi
Summary: Autumn represents the school, boys, and going out on the weekends for nineteen-year-old Jay. After seemingly innocent sexual intercourse, Jay is overwhelmed by strange visions and a feeling she cannot escape that someone or something is following her. Faced with horrific apparitions and her teenage friends, she is looking for a way to escape the fears that are just a few steps behind them.
For all horror movie fans, It Follows is a film not to be missed. It is considered one of the best American horror films since the Blair Witch Project and one of recent years' scariest films.
8. Sleepy Hollow (1999)
Genre: Fantasy, horror, mystery
Director: Tim Burton
Cast: Johnny Depp, Christina Ricci, Miranda Richardson
Summary: Follows police officer Ichabod Crane (Depp), who was sent from New York to investigate a series of murders in the village of Sleepy Hollow.
It is based on the classic story of Washington Irving. The film's plot takes place in 1799 and is based on Washington Irving's classic story "The Legend of Sleepy Hollow." The story of the dreamy, limited world, which Irving depicts, is faithfully portrayed. Horror, fantasy, and romance are mixed in the film, and an exceptional cast appears in it, which faces supernatural phenomena. In essence, it was the perfect material for director Tim Burton.
It is such a shame we never got a sequel to this great movie.
7. Invasion Of The Body Snatchers (1978)
Genre: Horror, Sci-fi
Director: Philip Kaufman
Cast: Donald Sutherland, Brooke Adams, Jeff Goldblum
Summary: A group of people in San Francisco led by Sanitary Inspector Matthew Bennell (Donald Sutherland) discovers that people are beginning to be replaced one by one with emotionless clones. When they see that the number of clones is increasing, they try to convince the authorities that something is wrong.
This is the first remake of the 1956 classic. The seeds of the aliens fall on San Francisco, strange creatures soon develop, and humans' replacement with emotionless clones begins. Sanitary Inspector Matthew Bennell (Donald Sutherland) and his associate (Brooke Adams) and their friends start a race to save their lives, trying to convince the authorities that something is wrong …
Another cult film on our list that unfortunately was left without a well-deserved sequel.
6. Don't Look Now (1973)
Genre: Horror, Thriller
Director: Nicolas Roeg
Cast: Julie Christie, Donald Sutherland, Hilary Mason
Summary: A married couple mourning their young daughter's recent death is in Venice when they encounter two older sisters, one of whom is a psychic, and bring a warning from outside.
Don't Look Now is an English-Italian film directed by Nicolas Roeg in 1973, based on the novel of the same name by Daphne du Maurier. The film is a combination of psychological thriller and horror, with supernatural elements.
This is still an amazing movie that never got the sequel it deserved.
5. The Babadook (2014)
Genre: Horror, Mystery, Thriller
Director: Jennifer Kent
Cast: Essie Davis, Noah Wiseman, Daniel Henshall
Summary: The film is about a single mother tormented by her husband's violent death and who struggles with the fears of monsters that her son has every night. However, she will soon discover that some sinister creature is lurking in the house.
Babadook is a great movie with an original story and great acting by the two main actors. If you like a well-arranged horror where terror grows throughout the film, one "smart" psychological horror in which tension is built with scenery, great music, sounds, and atmosphere, be sure to check out Babadook! This movie definitely deserved to get its sequel.
4. The Sixth Sense (1999)
Genre: Drama, mystery, thriller
Director: M. Night Shyamalan
Cast: Bruce Willis, Haley Joel Osment, Toni Collette
Summary: A boy who communicates with ghosts seeks help from a demoralized child psychologist.
This tense, exciting, and poignant film differs from all known ghost films, although this motif varies. It was directed by the gifted Indian author M. Night Shyamalan (born 1970), who is intrigued by the themes of the supernatural and the inexplicable, the world of the living and the world of the inanimate, the mysteries of unknown worlds whose existence we may suspect but do not believe in.
How good it would be if we got a sequel to this great movie.
3. Let the Right One In (Låt den rätte komma in, 2008)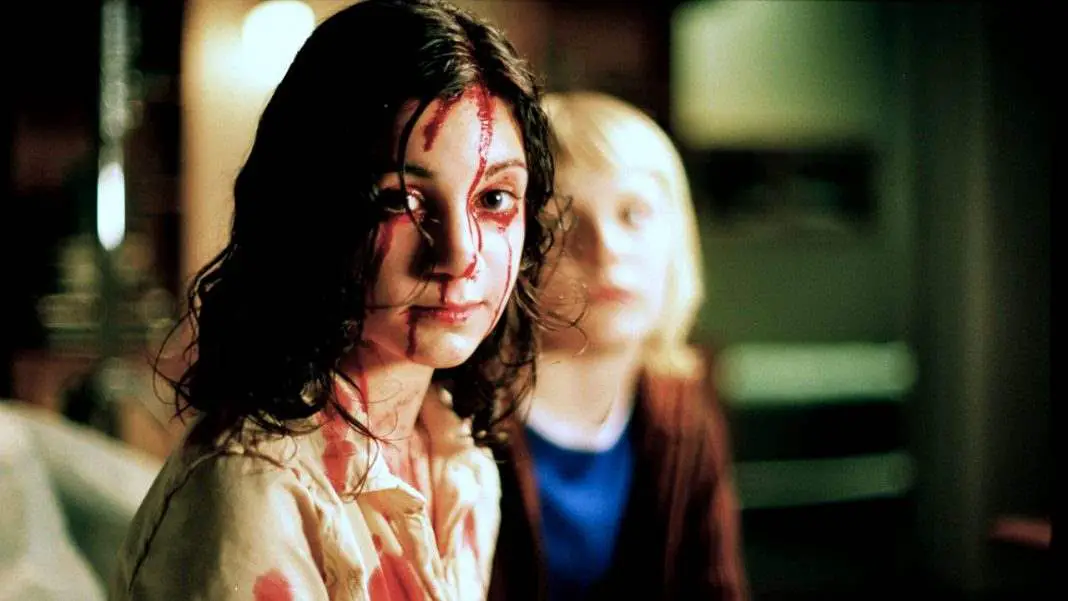 Genre: Drama, horror, romance
Director: Thomas Alfredson
Cast: Kåre Hedebrant, Lina Leandersson, Per Ragnar
Summary: Oscar, a terrorized boy, finds love and revenge through Eli, a beautiful but unusual girl.
It is an adaptation of the novel of the same name by the Swedish writer (also the screenwriter of the film) John Ajvid Lindquist, and the main roles are played by young Swedish actors Kare Hedebrant and Lina Leandersson.
Along with numerous other awards, the film also won the Golden Mélies for Best SF Film from the European Fantastic Film Festivals Federation. Although this is another film adaptation about vampires, the value, and even the new things in this movie, are perfectly adapted to the modern world. Through the original characters, it brought the Gothic story closer to a completely modern moment
We did get an American version of this movie in 2010, called Let Me In, which was actually pretty good. Still, unfortunately, we never got the sequel it deserved.
2. The Cabin in the Woods (2011)
Genre: Horror
Director: Drew Goddard
Cast: Kristen Connolly, Chris Hemsworth, Anna Hutchison
Summary: Five friends go on vacation to a secluded cabin, where they get more than they agreed upon, discovering the truth behind the cabin in the woods.
Drew Goddard and Joss Whedon join forces and bring us a film that, according to many critics, has brought a much-needed change to the stale horror genre.
A very successful horror film by Drew Goddard, who is better known as an excellent screenwriter of extremely popular TV series such as Lost, Alias, Buffy the Vampire Slayer, and The Cabin in the Woods, is his first directorial work on the film.
The movie did great in theaters, was lavishly shot, and the rich budget was felt throughout the movie.
All the more, it is bizarre that we never got a sequel to this great horror.
1. The Thing (1982)
Genre: Horror, mystery, sci-fi
Director: John Carpenter
Cast: Kurt Russell, Wilford Brimley, Keith David, Richard Masur
Summary: An Antarctic research facility encounters extraterrestrial forces that can change to anything they touch with 100% accuracy. Facility members must now find out who is humans and who isn't before it is too late.
John Carpenter, director of Halloween, Fog and Escape from New York, continues his fantastic series of hits with The Thing, a remake of the 1951 horror film "The Thing From Another World."
Carpenter had the ungrateful task of adapting the already well-known story and movie to modern audiences' tastes, without neglecting the reception of critics who had been inclined to him until then. Fortunately, he made a masterpiece that will be remembered for all times.
The film's screenwriter is Bill Lancaster (The Bad News Bears), the famous Burt Lancaster son. Interestingly, there is no single female character in the film, except that a female voice is heard briefly from the computer.
This cult horror movie got its next remake in 2011, and the movie with the same name actually wasn't that bad. Still, we never got the sequel this movie really deserved.